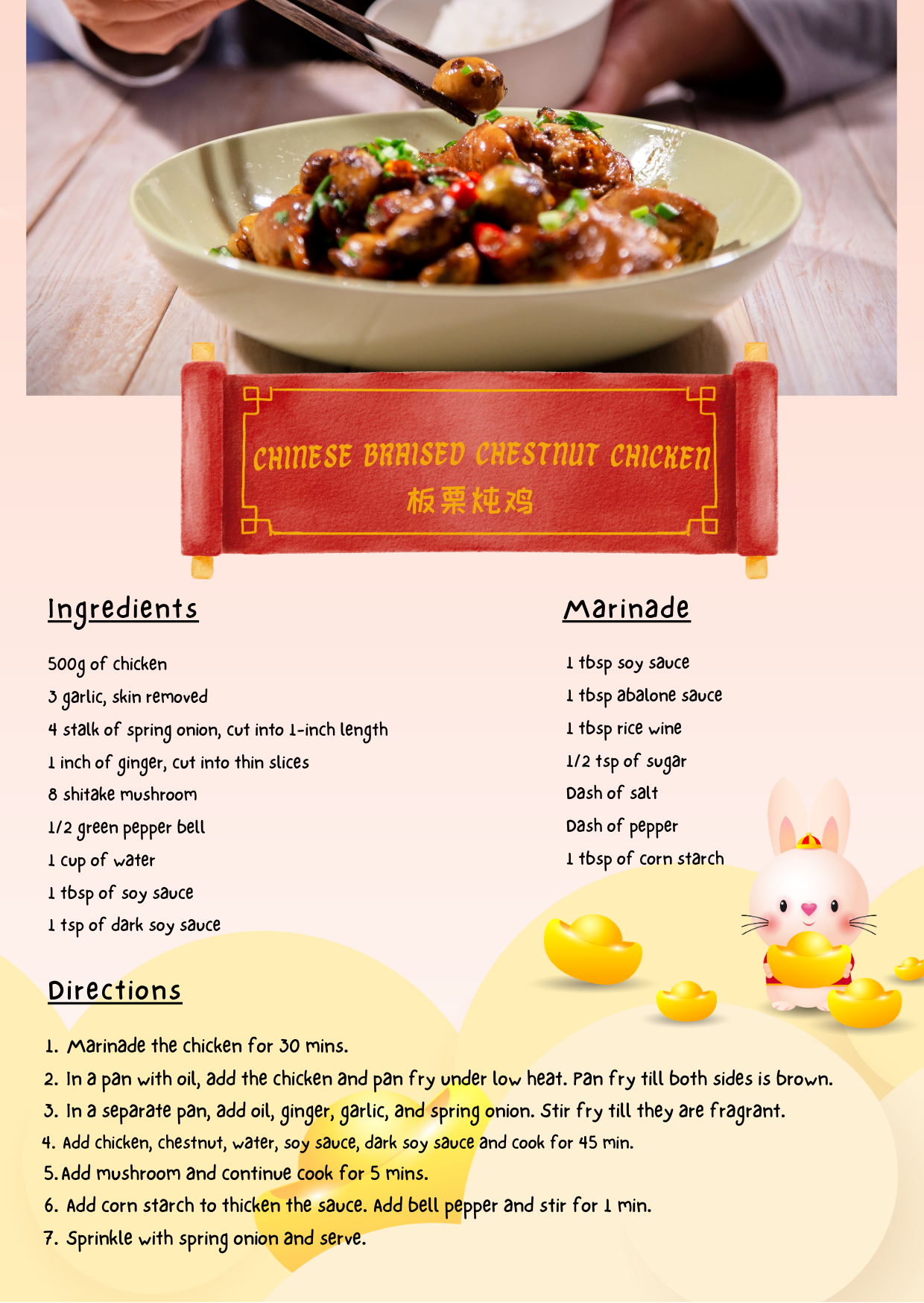 [ Chinese Braised Chestnut Chicken ]
A comforting dish that's easy to prepare, heathy and good with rice. Using organic chestnut in this recipe, simplified version and taste good.

Tips of this recipe:
1. Make sure the chicken is completely dry before you marinade, so that they can absorb the seasoning better.
2. Pan fry the chicken on low heat, and use the chicken oil to stir fry the later.
Ingredients
500g of chicken
3 garlic, skin removed
4 stalk of spring onion, cut into 1-inch length
1 inch of ginger, cut into thin slices
8 shitake mushroom
1/2 green pepper bell
1 cup of water
1 tbsp of soy sauce
1 tsp of dark soy sauce
Marinade
1 tbsp soy sauce
1 tbsp abalone sauce
1 tbsp rice wine
1/2 tsp of sugar
Dash of salt
Dash of pepper
1 tbsp of corn starch
Methods
1. Marinade the chicken for 30 mins.
2. In a pan with oil, add the chicken and pan fry under low heat. Pan fry till both sides is brown.
3. In a separate pan, add oil, ginger, garlic, and spring onion. Stir fry till they are fragrant.
4. Add chicken, chestnut, water, soy sauce, dark soy sauce and cook for 45 min.
5. Add mushroom and continue cook for 5 mins.
6. Add corn starch to thicken the sauce. Add bell pepper and stir for 1 min.
7. Sprinkle with spring onion and serve.